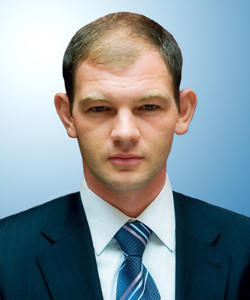 Sydorenko Yuriy Mykhaylovych
Associate professor
Education:
1997: graduated from Special Machine-building Faculty of Bauman Moscow State Technical University (Russia) with qualification "mechanical-engineer".
2001: protected the scientific dissertation of degree of engineering sciences (PhD) "Numerical simulation of explosion process of fragment projectiles and estimation of their efficiency".
2012: got the award of President of Ukraine in area of science for young scientists.
Areas of science researches:
Strengths Calculation of special designs witch are working under shock, impact and explosive loading.
Realization of technic-explosive examination of home-made designs by the help of computer modeling of explosive process.
Design and improvement of military shells construction.
Training courses that teaches:
Applied mechanics
Strengths of materials
Mechanics of materials and designs
Theory of machines and mechanism
Computer modeling of parts of machines and mechanism
Strengths of failures of construction elements.